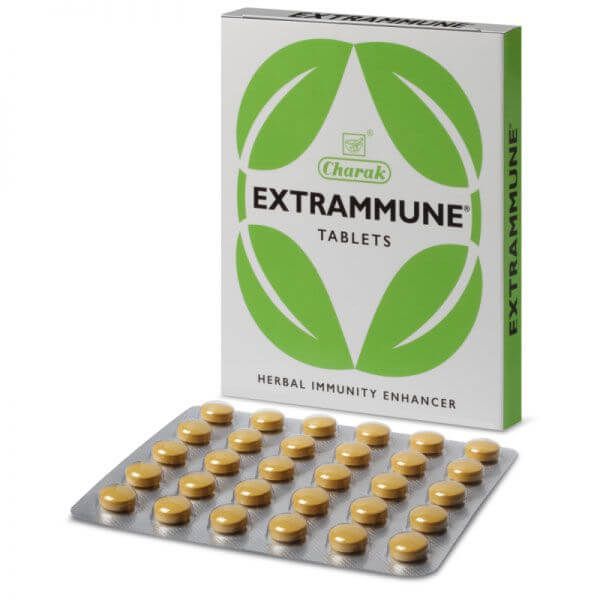  
EXTRAMMUNE CHARAK - A POWERFUL IMMUNITY BOOSTER
A powerful immunity booster - patented herbal formulae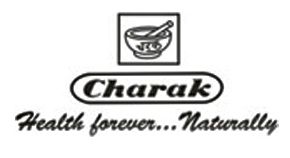 EXTRAMMUNE CHARAK
Extrammune Charak is a natural herbal immunity booster. It helps to stimulate immunity at the cellular level of cells and activate them to fight infections. As a result, it improves the body's immunity and helps in faster recovery.
Haldi (Curcuma longa), Guduchi (Tinospora cordifolia), Tulsi (Ocimum sanctum) and Yashtimadhu (Glycyrrhiza glabra) improve immunity by stimulating cell function Triphala Guggul, Chitrak (Plumbago zeylanica) and Manjishtha (Rubia cordbifolia) have anti-bacterial and anti-bacterial properties Healing wounds. Thus, Extrammune Charak, a herbal remedy fortified with immune-boosting herbs, acting as a personal bodyguard.
EXTRAMMUNE CHARAK ACTION
* strengthens its own immune system and builds resistance to infections
* supports the body's natural immunity during the seasonal epidemic of infectious diseases
* helps in removing the effects of infection
* prevents recurrence of infections
* enhances the action of antibiotics when used simultaneously
* facilitates quick recovery during illness
EXTRAMMUNE CHARAK ACTION
Prophylactic:
* re-building the body's natural immunity
* after antibiotic therapy
* during seasonal epidemics of infectious diseases
* long-term use of oral steroid drugs
Healing:
* as a support for antibiotic treatment, especially during respiratory
  tract infections and infections of skin and soft tissues.
* fever, temperature
EXTRAMMUNE CHARAK COMPOSITION
- each tablet contains
Triphala Guggul - 100 mg. and an extract of the following herbs
Guduchi (Tinospora cordifolia) - 250 mg.
Haridra (Curcuma longa) - 250 mg.
Manjishtha (Rubia cordifolia) - 125 mg.
Trikatu - 100 mg.
Chitrak (graphite zeylanica) - 75 mg
EXTRAMMUNE CHARAK PACKAGE
30 tablets in a blister.

EXTRAMMUNE CHARAK DOSAGE
Preventive dose:
2 tablets, once a day, preferably before a meal, to be taken with lukewarm water for a period of 60 to 90 days.
Treatment dose:
2 tablets twice a day, preferably before a meal, to be taken with warm water until symptoms disappear or as directed by a doctor.

In special cases, pls. consult your doctor, to prescribe the best dose meeting your prevailing health conditions.

Note: It is advisable that there should be at least 30 minutes gap between intake of Extramunne and other medications.
EXTRAMMUNE CHARAK EXPIRY DATE
3 years from the production date shown on the packaging.
The information on this website cannot be used as a substitute for professional medical advice. Do not use this information to diagnose or treat a problem without consulting your doctor.
ut consulting your doctor.